Pay "My card" utilities, television, Internet and telephony without commissions is possible now on Portmone.com
Oschadbank and company Portmone.com represent a joint action "Pay your bills without fees and queues" for users "My card".
So, from January 25, users "My Card" from Oschadbank can pay utility bills, TV, Internet and telephony with no monthly fee and commission online www.portmone.com.ua within 6 months from the date of registration.
A necessary condition for participation in the action is to register on the site www.portmone.com.ua or entering " My card "in the account of the existing account. The campaign is held from January 25 to April 25, 2016. P>
"We know that we have a large range of customers who are accustomed to, and want to pay only Oshchadbank communal. And, unfortunately, in the" utilities "days have a significant turn in the offices. Our task today - to offer people . convenient tool to address the issue of all should go into the past joint action with our partner Portmone.com -.. an important step in this direction I am sure that the users "My card" appreciate the offer, which makes it possible to save not only time, but also means ", - said deputy chairman of the Oschadbank Anton Tyutyunov
.
"By combining innovation and convenience" My Card "Oschadbank with online payments ease the Portmone.com, we strive to make people's lives easier and give them back the time they now spend to pay the bills," - adds a Svyatoslav Komakha, CEO of the company Portmone.com
bill payment service in Portmone.com system is also available on the home page oschadbank.ua.
For more information about registration card Portmone.com can be found on the www.portmone.com/mycard.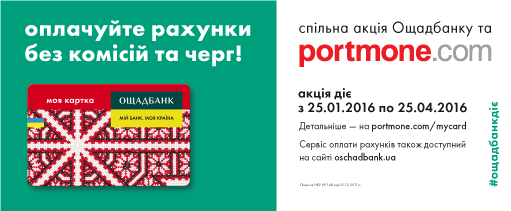 In November 2015 Oschadbank has launched a new universal product "My Card" . This is a free instant "point of entry" in Oschadbank, available to all customers. Its users have access to many modern banking services: free enrollment funds, the implementation of utility bills without queues, remote maintenance system "Oschad 24/7", a line of credit, the service "Mobile Savings" tool electronic identification OschadBankID for administrative services.
AT «Oschadbank» - the leading Ukrainian bank, which has the most extensive network of institutions. Actively working in all financial sectors. Among his clients are the largest companies in Ukraine. Oschadbank - the only Ukrainian bank, which is laid down by law the state guarantee the full preservation funds of citizens trusted the bank. License of NBU № 148 from 05.10.2011, the Call Center: 0800210800 (free of charge from fixed and mobile phones in Ukraine)
.
Company Portmone.com - the largest independent online payment service and money transfers in Ukraine. The company entered the market in 2002 and today provides services to nearly 2 million. Users and 1,400 organizations, serving a broad range of regular payments (payment for mobile communication, utilities, TV and Internet, insurance, taxes, bank loans, etc.) and transfers from card to card. The service provides a package of proven IT solutions for the banking, the mobile communications industry, e-commerce and the service industry. In 2013, Europe Virgin Fund became an investor Portmone.com.