Online Payments for Any Business
Your clients choose their best way to pay
Connect
For any business type
Corporate governance
Corporate governance
Simple and secure solutions for quick connection of online payments to the website.
View tariffs
Enterprises
Enterprises
A full range of services b for large online enterprises: from simple payment solutions to custom development
For banks
For banks
Payment services for bank customers: card transfers, utility bills, mobile top-up and much more
Insurance and loan companies
Insurance and loan companies
A full range of services for online lending and insurance claims payments, as well as repayments of credit debt and insurance payments
View tariffs
Utility companies
Utility companies
Ready-made and easy-to-integrate solutions for accepting payments on the website of utility companies, private house maintenance companies, and state house maintenance companies
View tariffs
Government organizations
Government organizations
Accepting government payments online
How to pay?
You sign up on the site and set up your account
We accept the payment and take care of the payment security
You receive funds into your bank account
Try demo account
Why us?
We provide solutions for any type of business, helping to increase the number of customers and support all online payments
Flexible and transparent rates
Simple and quick integration
Timely crediting of funds
Available payment methods

Payment instruments
Autopayments
Your customers can set up an automatic payment of regular bills
Payment in two clicks
Your client can save the details of the payment card once and then pay by entering the CVC2/CVV2 code only
Payment pre-authorization
Hold money on client's payment card up to 7 days without actually debiting it
Payment via SMS and email
Issue invoices via SMS and email
Mass invoicing
Save your time by issuing up to 100 invoices at a time
Connection options
API connection
iOS and Android SDK
Plugins for CMS platforms
Select convenient method and use the ready-made code to integrate the payment service with your website
The solution is integrated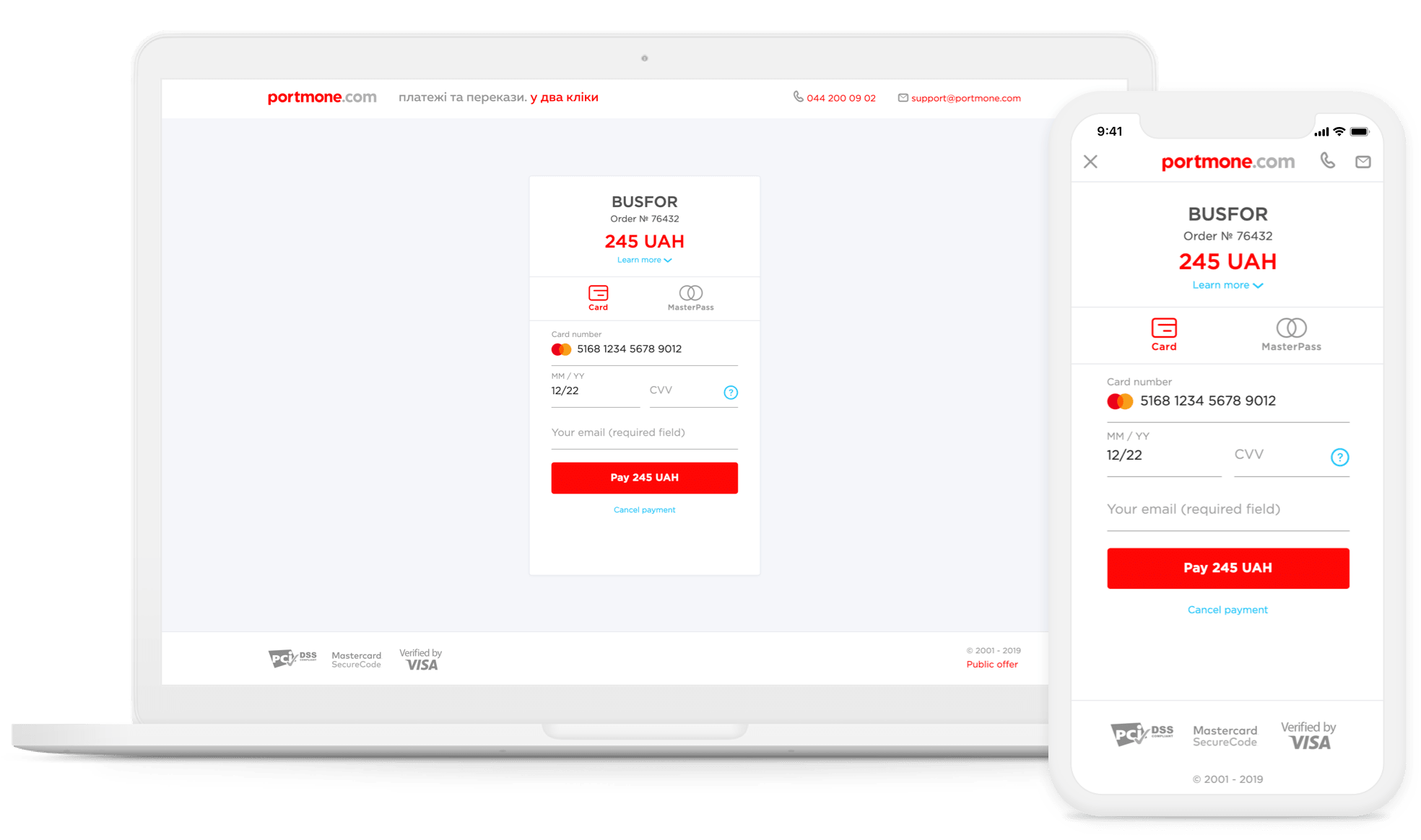 Connect
We are working with leading banks
Safety
Portmone.com was the first PCI DSS certified company in Ukraine and received an appropriate certificate from SRC
Need help?
Do you have questions about conditions of accepting payments, rates or workflow? Request consultation and we will contact you within a day