Regular online payments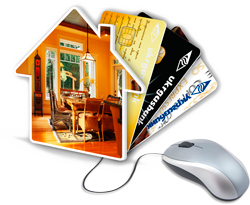 You can pay your household bills, mobile and landline phones, Internet and cable TV and other using payment card directly on the website.
International payments cards Visa, Visa Electron, MasterCard and NSMEP issued by any Ukrainian bank are accepted.
You can pay online not visiting your bank.
For payment and delivery of bills you must sign in.
To receive electronic bills, please, enter the details – contract number, phone number, public utility number, etc. After that you will receive monthly bills from companies you choose. You also will get messages about new bills on your e-mail or mobile phone.
To confirm payments made, Portmone.com automatically sends paper receipts with stamps by regular mail once a quarter.
What can I pay?
Review the full list of all companies.
Sign up and pay for Internet, television and puplic utilities free of charge during 30 days!
SIGN UP NOW AND GET AN OPPORTUNITY:
control payment history
Use registered bank cards, pay secure and comfortable
Automated bill delivery to your personal account
Set up sms and email notifications in personal account
Create templates in two clicks
*
- exept money transfers between cards, payments by requisites and budget payments