Portmone.com makes possible to pay services of the DTEK Donetsk Regional Power Distribution Company
Henceforth, the Donetsk region' residents can pay the DTEK Donetsk Regional Power Distribution Company' services without living the house. Just choose the branch and enter customer account (see screenshot).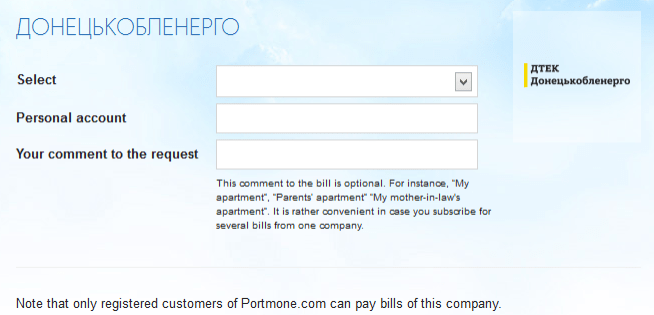 The list of available for payment regional and city branches of Power Supply Service (RPSS and CPSS):
Yenakiyevo RPSS;
Avdeevka RPSS;
Amroseevka RPSS;
Artemovsk city RPSS;
Artemovsk rural RPSS;
Velikonoveselovka CPSS;
Volnovakha RPSS;
Volodarsk CPSS;
Vostochnoe RPSS;
Horlovka RPSS;
Debalcevo RPSS;
Dzerzhinsk RPSS;
Dobropolye RPSS;
Dokuchaevo RPSS;
Donetsk (Voroshilovskiy RPSS);
Donetsk (Kirovskiy RPSS);
Donetsk (Kalininskiy RPSS);
Donetsk (Kuybishevskiy RPSS);
Druzhkovka RPSS;
Konstantinovka RPSS;
Kramatorsk RPSS;
Krasnoarmeysk RPSS;
Krasnolimansk RPSS;
Krivoy Rog RPSS;
Makeevka RPSS;
Mariinsk RPSS;
Mariupol RPSS;
Novoazovsk RPSS;
Aleksandrovsk RPSS;
Pervomaysk RPSS;
Selidovsk RPSS;
Slovyansk RPSS;
Snezhnyansk RPSS;
Starobeshevsk RPSS;
Telmanovsk RPSS;
Torez RPSS;
Kharzisk RPSS;
Shakhtersk RPSS
Yasinovatoe RPSS.
All Visa/MasterCard Cards issued by any Ukrainian and International Banks are accepted. No banking fee for utility bills' payment with Portmone.com
It should be noted that the electronic bill issued by the system to a client after payment has the same legal force as the paper one has. If necessary, it can be printed and provided in evidence of delivered payment.
DTEK Donetsk Regional Power Distribution Company bills' payment in region delivered in accordance with the Ukrainian legislation.
We remind that earlier Portmone.com gave the possibility to pay services of the Public Joint-Stock Company "On provision of gas supply Donetskoblgas".